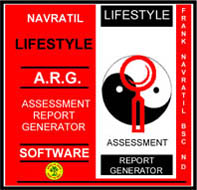 NAVRATIL
LIFESTYLE ASSESSMENT
REPORT GENERATOR SOFTWARE


FEATURES
Automatic instant assessment of:

40 lifestyle variables that influence our health
12 lifestyle indexes

This software offers an excellent and quick method to overview the client´s lifestyle habits based on how they answer key questions to do with their lives, the people around them, their feelings and how they react in certain situations. It provides an assessment of whether their needs are being satisfied and where there are high priority areas that need attention. Excellent for the natural therapist who wishes to dealve deeper into the holistic causes of their client´s health problems.
The software allows you to offer your patient or client a 5 page multiple-choice questionnaire which includes hundreds of questions about their lifestyle, relationships, beliefs and needs. They can fill this questionnaire out at home on their own time. It takes less than an hour to fill out.
Using your scanner,the software automatically recognizes and scans each page of their filled in questionnaire and records their answers in only a few minutes.
With just a click of a button, a comprehensive multi-page report is generated ready to print out in seconds.
The report generator software automatically calculates and graphically displays the results as well as generates advice, all of which are added to the report in seconds.
The software allows you to store your client´s records and reports along with contact details, patient history and other pertinent information. You can easily look up any past client in the Client Manager and view their report, their filled in questionnaire, contact details, advice and any other notes you have made.
ASSESSMENT
The software automatically analyzes, explains and graphically displays the state of each of the following lifestyle variables including:

Accepting others
Accepting yourself
Adventure
Animals
Balance
Belief
Challenge
Change
Clean air
Color
Creativity
Deep Breathing
Dreams
Education
Exercise
Family
Forgiveness
Freedom
Happiness
Harmony
Hope
Life Path
Love
Meditation
Motivation
Music
Natural Medicine
Nature
Holistická výživa
Positive Thinking
Relationships
Relaxation
Sleep
Spirituality
Sunlight
Touch
Trust
Understanding
Water
Work

The software automatically analyzes, explains and graphically displays the state of each of these lifestyle indexes including the:

People Orientation Index
Work Orientation Index
Change Index
Fear Index
Attitude Index
Stress Index
Mind Index
Body Index
Spirit Index
Karma Index
Life Satisfaction Index
Need Balance Index

The software automatically will generate recommendations based on each of the above results. These recommendations can be edited or changed to your needs. Add your custom recommendations to suit your practice.
The Navratil Lifestyle Assessment Report Generator Software is an excellent way to gather and identify information about your client´s lifestyle habits and needs and provide them with valuable advice in minutes without spending hours during a consultation.
REQUIREMENTS:
PC with windows 98, 2000, XP or Vista
Basic scanner connected to your PC by USB port
CD-rom drive